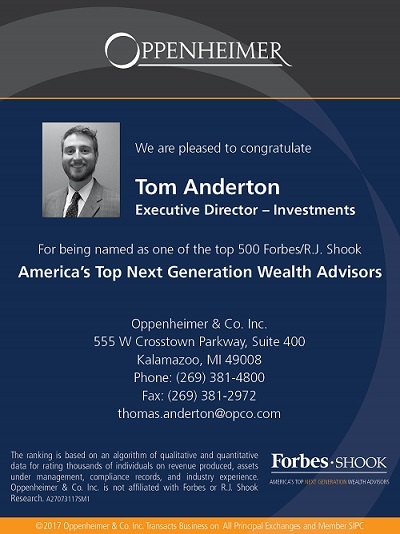 The Anderton Team of Oppenheimer & Co. Inc.
The Anderton Team of Oppenheimer & Co. Inc., based in Southwest Michigan, serves a select group of families nationwide who seek a rigorous financial planning process combined with disciplined investments with the objective of delivering a higher level of financial predictability.
When working with these clients, we provide thoughtful, informed advice to help them reach their financial goals. Regularly scheduled, agenda-driven contact enables us to help prepare clients financially for what life may bring their way. If you become a client, we want to get to know you, to understand your individual situation, your dreams and plans for the future a well as the day-to-day challenges that you may face. We often work with multiple generations, which provides continuity for the long-term.
The better we understand your situation, the more effective we can be in providing the most suitable investment advice for you. Oppenheimer's deep support system gives us access to nationally recognized research and a full range of traditional and nontraditional products and services, including financial planning. These resources enable us to develop a strategy that we consider to be in your best interest.
Thomas Anderton
Thomas Anderton, who joined Oppenheimer in 2006, leads the Anderton Team of Oppenheimer & Co. Inc. He initially joined the Barnes Barnes Anderton Group and continued in that capacity until the retirement of the Barnes associates in 2014. He holds an MBA in Finance from the University of Chicago's Booth School of Business as well as a Bachelors degree in Finance and Packaging from the University of Florida. He has also earned the Certified Financial Planner (CFP®) designation from the Certified Financial Planner Board of Standards Inc.
He derives great satisfaction from helping clients with a wide range of financial needs. As the leader of his group, he emphasizes the importance of providing personalized service to each client and encourages the use of financial planning strategies. He draws on Oppenheimer's substantial body of research and also keeps abreast of the latest financial issues and economic trends that may affect clients. His goal is to provide relevant information for the many financial situations that our clients may encounter now and in the future.